Mr. and Mrs. Jacob Poppinga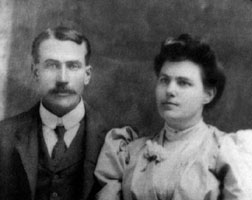 Wedding Portrait April 12, 1899 Allison, Iowa

Jacob G. Poppinga born June 30, 1874 West Point Township, Iowa. His parents, Jacob and Taatje (Beninga) Roalf - Poppinga emigrated from Ostfreisland, Germany.

Mary Emeline (Small-Adams) born in the house on her Grandfathers farm September 10, 1872 New Haven Indiana. Daughter of Lewis James Adams * (photo), descendent of Henry Adams of Braintree, MA. and Angeline (Small) Adams * (photo) whose ancestors emigrated to America from England in the 1600's. Mary was a descendant of Elder William Brewster a Mayflower passenger. Francis Small, one of the founding fathers of Kittery, Maine. Her GG GrandfatherJoseph Small was a veteran of the Revolutionary War. Her Grandfather Earl Adams was a veteran of the Civil War.

Jacob and Mary had one child, a daughter, Martha. After a few years of marriage the family left Allison, IA. and moved to Routt County Colorado where Jacob worked in the coal mines and on the Moffitt Railroad. They owned 160 acres of land at Hahns Peak and paid $5.21 total taxes on the property in 1906. When a fire destroyed their home in Colorado they moved to a farm 5 miles north of Wheaton, Minnesota.
---
Daughter Martha Mae Poppinga
Born 1900 Allison, Iowa - Died 1990 Perham, MN.
| | |
| --- | --- |
| 1901 one year old Allison, IA. | 1917 seventeen years old Wheaton, MN. |
---
"THREE MEN IN A TUB"

Lewis......Richard.....Johnny

Martha married Martin T. Johnson March 15, 1920 Wheaton, MN. They lived in a small house on Martha's parents farm and had three sons and one daughter Ethel. About 1930 Martin took his family south to his parents farm in Kiester, MN. and left them there to go in search of work. When he didn't return Martha boarded a train with the children and traveled back to her parents farm in Wheaton. Martin died in 1955 and is buried in Richmond, IN.

All three served in WW II and returned home.

Lewis WWII 5th Army, 169th Engineers

Richard ............................USS San Francisco

Johnny...................... Supply Ship USS Borrias
---
| | |
| --- | --- |
| Lewis about. age 12 | WW II 5th Army, 169th Engineers |

Traverse County

MNGenWeb

USGenWeb
---
There were 6,562 visitors from 14 Mar 1998 - 23 Aug 2016
This page last updated 18 Feb 2018