1872 Great Grandma Mary 1969

1957
I was six years old when we pulled into the driveway of 6850 Amherst Street San Diego for the first time. We had been traveling from Minnesota for what seemed like forever in our dark green 1952 Plymouth. Oh to have survived the desert in Aug. before air conditioning. My dads driving on the road that had taken us over the Rocky Mountains. "Yes ! We're there!" my parents can finally announce in unison, and without my sister or I even having to ask. The car doors open and we are released from it's scratchy gray interior while being greeted by my California grandparents, Martha and Raymond. Up the stairs and into the house. Coffee for my parents. Grape Kool-Aid frozen into ice cube blocks for my sister and myself. All the excitement of family re-united and new family met filled the small kitchen. Uncle's John, Carl and Gene, who always told us children, he fired the cannon that made puffed rice at Quaker Mills. It was turning into a standing room only kind of welcome. At some point, "So where's Jake?".......could be heard above all the other conversations. Great Grandpa Jacob died and was buried only weeks before our arrival. I was washed in the wave of sadness that now swept the room. "He went quick" and "did not suffer" were offered by someone as condolences to the entire assemblage. Great Grandpa Jake was gone before I could even meet him. A shift in the crowd towards the living room and I could now see my Great Grandma Mary , mother of my Grandmother, my fathers Grandmother, sitting on the couch near a window. She saw me and smiled as I began to make my way towards her ........... She was the oldest person I'd ever seen.
My family would soon be moving into 6858, the house next door and I would have the opportunity to spend time wth her.
1902
Everything about her trip and life in Routt County, Colorado would be different this time for Mary, daughter of Lewis J. and Angeline (Small) Bowser Adams. Her second husband Jacob would buy a farm, work in the coal mines and on the Moffitt Rail line. Her father Lewis would come and work, for a time, on the Moffitt line before making his last move to the Oklahoma Indian Territory in 1906.
1872
Mary Emeline Adams the daughter of Lewis James Adams and Angeline (Small) Bowser - Adams was born October 10, 1872 New Haven, Indiana.
1887
Mary Emeline was 15 when she married Richard Brumback, "a tall handsome man with soft brown eyes and dark hair". They had a baby girl Flora, in 1888 and a son, John was born the following year.
About this time Mary had a cousin who was married to a Kansas City policeman and they had a beautiful 5 year old son. A large black dog came into their yard one day and bit the child. Neighbor men killed the dog. It was rabid. Marys cousin took her son to the doctor, who said the child would die. They could "keep him at home until symptoms appeared" at which time they were to bring him to the doctor who would "restrain him until death". They kept their son in a bedroom, knowing that all to soon they would loose their little boy and that his death would not be an easy one. It wasn't to long before the boy became very "nervous". They gave him "strings from the feed and flour sacks" to play with. Soon he was so "nervous" he would pick and pull at the strings frantically. The father sent for the doctor who wanted to take the son away and restrain him. The father refused the doctor that and told him he should "ease" his sons suffering "right there and now".
With Marys cousin held in another part of the house her husband and a neighbor man held the child down, while the doctor "pierced the boys heart with a long needle". Marys cousin never recovered from this tragedy, she lost her mind and was locked away an asylum for the rest of her life.
Richard had a bit of a cough that he couldn't seem to shake........."It was the Lung trouble"
1890
"A never ending stream of black buggy hearses passed down the street punctuated only occasionally by a white one."
Mary would often retell the story when 18 month old Flora became ill. Of sending for a doctor who told them he could not help, "sponge her and give her fluids". How on the third night Floras temperature had risen suddenly in spite of the sponge baths and devoted efforts. It was late into that night Flora looked up at her Daddy and said "Papa water". He raised her head gently from the pillow to meet the dipper and gently returned it. As the light from a kerosene lamp danced and flickered on the walls of a small room baby Flora closed her eyes forever. Richard and Mary had a studio portrait taken of Flora, after death, which was the custom in those days.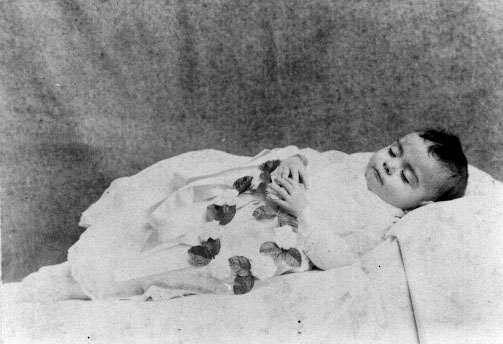 The pain and grief of this loss would always be near..............but not to near.
1890
Richards cough worsened, so weakened was he now by his "lung trouble" that his Doctor told them "if he can survive the journey the clear mountain air of Colorado may be the only hope of restoring his health".
So with hope in their hearts Mary climbed into the drivers seat, took up the reins of their sturdy wagon with it's two fine teams of horses, which would carry her children John, a toddler, Ethel, a nursing baby and her invalid husband Richard to Routt County, Colorado.
All to soon each day became basically the same as the last. Get her family fed, hitch the teams, drive as far as possible while caring for her children and husband. As the sun was beginning to set she would stop, unhitch and care for the horses. As often as possible she would hunt for small game or fish. Then gather enough wood to keep a fire through the night,cook and feed her family, wash cloths in streams when water was handy and spend her nights "sleeping" on a blanket on the ground under the wagon with one eye open and a shotgun at her side. Before dawn the same routine would begin anew. Mary prayed. A lot.
How she struggle with the horses while ascending the Rocky Mountains during a violent thunderstorm.
Mary was 18 years old when she reached Rabbit Ear Pass, Colorado in the wagon with it's fine teams of horses, John, a toddler, Ethel, a nursing baby, and a dead husband.
Somehow she managed to find "a small white house near a church." The next thing she remembered was "waking up in a simple tidy room with the light from a kerosene lamp dancing and flickering on the ceiling and walls" " I heard my children playing in the other room". "A kindly faced woman brought me warm soup." After she had eaten a little she fell back to sleep.
Mary found employment cooking and cleaning at a hotel for a time. Her plan was to earn enough money to return to Iowa with her children. As freight drivers came in to eat and rest she overheard them discussing their wages and it gave her an idea. After finding someone to care for her children Mary took her sturdy wagon, fine team of horses, a rifle and pistol, dressed as a man applied for a new job, was hired, and set out to haul freight between Steamboat Springs and Denver. Which she did!
It was back breaking work loading and unloading the wagon at each end of the line. Dangerous driving up and down the mountain road between Steamboat Springs and Denver in all kinds of weather. Many times the wagon would "bog down" under the heavy loads and she would have to "free up" the wagon by herself.
With the money she earned Mary and her children were able to return to Iowa where she married Jacob Poppinga. Martha Mae Poppinga was born February 15, 1900 Allison, Iowa. The family returned to Steamboat Springs and bought a farm. Jacob worked in the coal mines a while. Then on the Moffitt RR with Marys father Lewis. When a fire destroyed their home they moved to Wheaton, Minnesota where Jacob bought his "rock" farm, five miles north of town. Jacob worked so hard trying to clear the fields "rocks were stacked up like a fence" all along the side of the road that bordered his property. The depression wiped Jacob and Mary out and so Jacob, who had never had much luck at farming no matter how hard he tried, became the grounds keeper at the Traverse County Fair Grounds. A small house, which was originally one of the first schools in the county, was moved to the Fairgrounds for them to live in. So the years passed. Sometime in the 50's they moved to San Diego and spent their last years near their daughter Martha Mae and her family.
After Jacob died Mary past her days reading her bible often sharing her favorite verses with us. Sometimes she would tell us, in much less detail of her cousins little boy and warn us all to "watch for stray dogs". It became a much more powerful story to me when in the third grade I saw on TV the movie of Louis Pasture starring Paul Munie I believe. Sometimes she would recount to us that she had a little girl who died of a fever long ago and she would show us the treasured photo of Flora. Once in a while there would be a little twinkle in her eye. She would reach into the pocket of her house dress. A harmonica! She would play us a couple of tunes and then send us out to play.
Before her death Mary's brother Charlie Adams, who lived in Steamboat Springs, visited and when he started recounting Mary's freight hauling her face became flush and she began crying, she felt so humiliated, "women just didn't do things like that" and was to ashamed to have ever told any of us.
Jacob Gerrd Poppinga born June 30, 1874; West Point Township, Iowa died June 18, 1956 he is buried at Greenwood Cemetery, San Diego. Mary Emeline Adams born September 10, 1872; New Haven, Indiana died June 12, 1969 and is buried next to Jacob at Greenwood Cemetery, San Diego. When their only child, Martha Mae, died in 1990 she was buried, on her birthday, at Greenwood next to her parents.
This from information provided by Great Grandma Mary, my Aunts Mary and Alice, and my recollections.
Written by my Aunt Mary
Traverse County MNGenWeb USGenWeb

---

There were 2,059 visitors from 20 Sep 1998 - 23 Sep 2016
This page last updated 18 Feb 2018
© 1997-2001 C. LaRue
© 2014-2018 Tim Stowell