Mr. & Mrs. Bernard Siems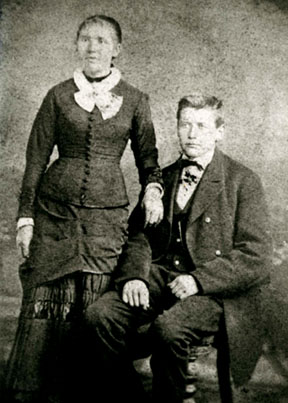 Wedding Portrait
In 1884 in Rastede, Germany Gesina Martha Decker and Bernhard Dietrick Siems were married. Bernhard came to America in June 1894 and worked on the immigration farm north of Wellsburg, Ia, to earn passports to bring his faimily from Germany. In November 1894 his Mother Meta Junker Siems, his wife Gesina, and six children John, Henry, Lena, Anna, Fred, and Marie arrived. During the day he worked for a farmer, at night he made wooden shoes. Henry and John sawed chucks of wood, Lena and Anna sewed cushions to put in the backs of the shoes.
In 1895 they lived S.E. of Wellsburg, 4 miles south, 1 mile east. They had to carry water from a spring 40 rods away, hauled it on a stone drag in containers and then heated it to wash clothes. One room in the house had a dirt floor. Bernhard was hauling manure with a team of mules when the mules ran away and the wagon ran over his shoulder. He was laid up quite awhile and it took John and Bernhard a year to pay the doctor bill. Lizzie was born there.
1897 August was born.
1898 Ben was born.
1900 Moved to a place N.E. of Kesley, Ia. Rented for shares. Dick and Carl were born there. The Northwestern Railroad was laid and Gesina showed Ben the trains as they went past.
1901 Heinie was born.
1903 Meta Siems brother died on July 3. He was buried northwest of Wellsburg, west of the church in a country cemetery.
1904 they moved 4 miles south, 1/4 mile west of Dumont, Ia. George was born there and in
1906 Sena was born there.
They rented 240 acres. The second year got 250 bushels of potatoes per acre on 20 acres at 40 cents a bushel. The Siems children attended Clutterville school which was 1/4 east of their farm. Teachers were boarded at their home.
In 1912 the Siems bought their first car, a Model T for about a thousand dollars. It had carbon lights, had to pump air in them before they could be lit. They also bought an Edison phonograph, Bernard would make a line call to the neighbors on the phone so they could hear the music. Henry built a saw mill, later sold it to the Frisby boys north of Dumont, and later bought it back. Bernard bought 162 acres of prairie in Martin County, Minnesota. On Sundays they would ride in the carriage to Wellsburg to visit their Grandma Meta Siems
In the fall of 1913 Bernard and some of the boys went to Minnesota. Fred and Kid Dobson brought up 6 to 8 horses by boxcar. Met the train at Fairmont. Slept the first 3 nights in the neighbors barn-Bernard slept in their house. They built a shed, slept in that on straw while building a 16x28 barn for the horses. They dug a basement for the house,got 3 wagon loads of rock from lake for cement for basement wall. Moved this all by hand and put in to level of ground. Cut hay with a newly purchased mower.
In 1914 went to Minnesota for a month in the spring. Broke prairie, sowed flax. In the fall they finished the foundation on the house and started building the house and barn.
In February 1915 the furniture and household items were loaded on the Northwestern Train boxcar. They rode on the passenger train, our dog, cat, and canary were moved along in cages in the express car. In the fall Carl, George, and Sena started to school northwest of the farm. It was a 5 mile walk on the road and 3 miles through the fields. Bernard and the boys built a road around the lake north of the farm.
In 1917 they bought another Model T.
In 1918 they all had the slu except for Bernard and Gesina. Bernard went to Mankato to get some whiskey to make a hot-toddy for each of us. The neighbor's hired hand helped with the chorses as the kids were in bed for about two weeks.
In January 1919 Bernard got sick and died of diabetes on February 21,1920. Services were held at the German Reformed Church at Dumont,Ia. Gesina his wife stayed on the farm eight years, Heinie, George, and Sena helped with the work. Carl and Ben built houses around Fairmont.
In January 1928 Gesina sold the farm and some of the items that were sold were:
John Deere Prarie Breaker
Fordson Tractor
Ottawa "F" cylinder corn sheller with long drag
2 John Deere sulkey plows
John Deere potato plow
Fairbanks Morse platform scale, and etc.
After the farm sale in Minnesota Gesina moved to Dumont, Ia. where she resided until her death on Feb. 16 1942. Services at the Dumont Reformed Church and burial Dumont cemetery.
The house is located on Montrose Ave, 1 block north of Highway 3 on the left side of the Street. Sena (one of the children)and her husband Harm Bents purchased the home in 1942, after Harm's death it was sold in 1965. The current owners have remodeled the house.
Bernards mother Meta Junker Siems was born June 6, 1836 in Halsbeck Groszhezgethum, Olenburg Germany. She had one son, Bernhard Dietrick Siems. She resided in Wellsburg, Iowa until her death on April 24, 1922. Services were held at the German Reformed Church, and burial was in the adjacent cemetery east of the church.
---
To share or exchange information about the Bohlen - Siems family e-mail

Linda (Bruns) Whiteside or Don Siems

Return to
My GENEALOGY Web Page Index or Lupkes Genealogy Web Pages
There were 3,169 visitors from 20 Sep 1998 - 23 Sep 2016
This page last updated 18 Feb 2018
© 1998 C. LaRue.
© 2014-2018 Tim Stowell